Our company is known as a supplier of OEM and aftermarket parts for heavy construction equipment. Well we supply complete tandem hydraulic pumps, pump units, regulators, steering units, parts and seal kits.
We stock cylinders, swash plates, pistons, shafts, regulators at our warehouse in California. ETA for non-stock items is around 3 days.
High quality and a long-term durability hydraulic parts with fair price are available from our company.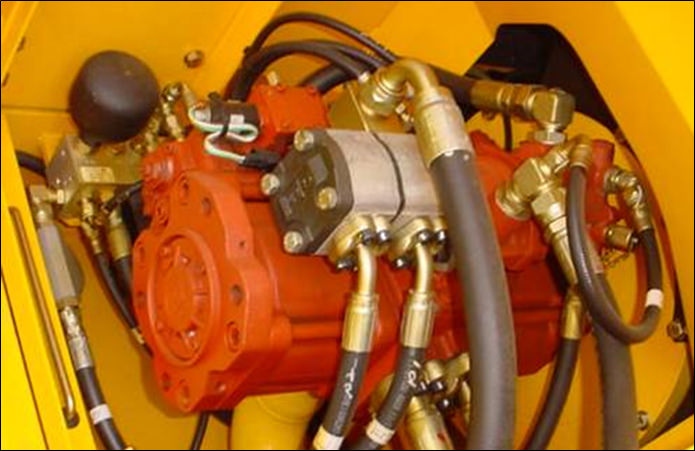 | | | |
| --- | --- | --- |
| PART NO | DESCRIPTION | APPLICABLE HYUNDAI EXCAVATORS |
| 31E5-03010 | HYDRAULIC MAIN PUMP | R3300LC3, R3300LC-3, R290LC, R290LC-3, R290LC3, R320LC, |
| 31E5-04010 | HYDRAULIC MAIN PUMP | R320LC3, R320LC-3 |
| 31K4-19010 | HYDRAULIC MAIN PUMP | HX140L |
| 31K5-19010 | HYDRAULIC MAIN PUMP | HX180L |
| 31K6-15010 | HYDRAULIC MAIN PUMP | HX220L |
| 31K8-10030 | HYDRAULIC MAIN PUMP | PHX300 L |
| 31K8-10035 | HYDRAULIC MAIN PUMP | PHX300 L |
| 31K9-10010 | HYDRAULIC MAIN PUMP | HX330L |
| 31KA-10010 | HYDRAULIC MAIN PUMP | HX380L |
| 31KA-10040 | HYDRAULIC MAIN PUMP | HX430L |
| 31KB-10010 | HYDRAULIC MAIN PUMP | HX480L, HX520L |
| 31N3-10011 | HYDRAULIC MAIN PUMP | R140LC-7, R140LC7, R140LC9, R140LC-9 for India |
| 31N3-10050 | HYDRAULIC MAIN PUMP | R110-7, R1107 |
| 31N3-10070 | HYDRAULIC MAIN PUMP | R110-7, R1107 for India,R140LC-9, R140LC9 for India |
| 31N4-10010 | HYDRAULIC MAIN PUMP | R140LC-7A, R140LC7A, |
| 31N4-15012 | HYDRAULIC MAIN PUMP | R140W7, R140W-7 |
| 31N4-15022 | HYDRAULIC MAIN PUMP | R1400W7T |
| 31N4-15030 | HYDRAULIC MAIN PUMP | R140W7, R140W-7 |
| 31N4-15040 | HYDRAULIC MAIN PUMP | R140W7A, R140W-7A |
| 31N5-10011 | HYDRAULIC MAIN PUMP | R180LC7, R180LC-7, R160LC7, R160LC-7 |
| 31N5-10030 | HYDRAULIC MAIN PUMP | R180LC7A, R180LC-7A, R160LC-7A, R160LC7A |
| 31N5-15011 | HYDRAULIC MAIN PUMP | R170W7, R170W-7 |
| 31N5-15030 | HYDRAULIC MAIN PUMP | R170W7A, R170W-7A |
| 31N6-10010 | HYDRAULIC MAIN PUMP | R210LC7, R210LC-7 |
| 31N6-10030 | HYDRAULIC MAIN PUMP | R210LC7H, R210LC-7H, R210, R220LC7H, R220LC-7H |
| 31N6-10051 | HYDRAULIC MAIN PUMP | R210LC7, R210LC-7, R220LC-7 for Inda, R220LC7 |
| 31N6-10080 | HYDRAULIC MAIN PUMP | R210LC7A, R210LC-7A |
| 31N6-10090 | HYDRAULIC MAIN PUMP | RD210-7 for India, R210-7V, R2107V R220LC7, R220LC-7 |
| 31N7-10011 | HYDRAULIC MAIN PUMP | R250LC7, R250LC-7 |
| 31N7-10030 | HYDRAULIC MAIN PUMP | R250LC7A, R250LC-7A |
| 31N8-10011 | HYDRAULIC MAIN PUMP | R290LC7, R290LC-7, R305LC7, R305LC-7 |
| 31N8-10030 | HYDRAULIC MAIN PUMP | R3000LC7, R300LC-7 |
| 31N8-10050 | HYDRAULIC MAIN PUMP | R290LC7, R290LC-7 |
| 31N8-10060 | HYDRAULIC MAIN PUMP | R290LC7, R290LC-7 |
| 31N8-10070 | HYDRAULIC MAIN PUMP | R305LC7, R305LC-7 |
| 31N8-10080 | HYDRAULIC MAIN PUMP | R290LC7A, R290LC-7A |
| 31N9-10010 | HYDRAULIC MAIN PUMP | R320LC7, R320LC-7, R320LC7A, R320LC-7A |
| 31N9-10050 | HYDRAULIC MAIN PUMP | R370LC7, R340LC7, R340LC-7 for India |
| 31NA-10010 | HYDRAULIC MAIN PUMP | R360LC7, R360LC-7 |
| 31NA-10020 | HYDRAULIC MAIN PUMP | R3700LC7, R3700LC-7, R370LC7, R370LC-7 |
| 31NA-10021 | HYDRAULIC MAIN PUMP | R3700LC7A, R3700LC-7A, R370LC7, R370LC-7 |
| 31NA-10030 | HYDRAULIC MAIN PUMP | R360LC7A, R360LC-7A |
| 31NB-10010 | HYDRAULIC MAIN PUMP | R450LC7, R450LC-7 |
| 31NB-10022 | HYDRAULIC MAIN PUMP | R450LC7, R450LC-7, R450LC7A, R450LC-7A, R500LC7, R500LC-7, R500LC7A, R500LC-7A, R510LC7, R510LC-7 for India |
| 31Q4-10010 | HYDRAULIC MAIN PUMP | R140LC9, R140LC-9, R140LC-9A, R140LC-9S, R140LC-9S for Brazil |
| 31Q4-10020 | HYDRAULIC MAIN PUMP | R140LC9, R140LC-9, R140LC9S, R140LC-9S |
| 31Q4-15020 | HYDRAULIC MAIN PUMP | R140W9, R140W-9, R140W9A, R140W-9A |
| 31Q4-15030 | HYDRAULIC MAIN PUMP | R140W9S, R140W-9S |
| 31Q5-10010 | HYDRAULIC MAIN PUMP | R160LC9, R160LC-9, R160LC9A, R160LC-9A, R180LC9, R180LC-9, R180LC9S, R180LC-9S, |
| 31Q5-10020 | HYDRAULIC MAIN PUMP | R160LC9, R160LC-9, R160LC9S, R160LC-9S, R180LC9S, R180LC-9S |
| 31Q5-15010 | HYDRAULIC MAIN PUMP | R170W9, R170W-9, R160W9A, R160W-9A, R180W-9A, R180W9A |
| 31Q5-15030 | HYDRAULIC MAIN PUMP | R170W9S, R170W-9S, R180W9S, R180W-9S |
| 31Q6-10010 | HYDRAULIC MAIN PUMP | R210LC9, R210LC-9, HX220L, R220LC9A, R220LC-9A, R235LCR9 R235LCR-9. R235LCR9A, R235LCR-9A |
| 31Q6-10020 | HYDRAULIC MAIN PUMP | R210LC9, R230LC-9 |
| 31Q6-10040 | HYDRAULIC MAIN PUMP | R220LC9H, R220LC-9H |
| 31Q6-10050 | HYDRAULIC MAIN PUMP | RB220LC9S, RB220LC-9S, R220LC-9SH. R220LC9SH |
| 31Q6-15310 | HYDRAULIC MAIN PUMP | R210W9H, R210W-9H |
| 31Q6-19010 | HYDRAULIC MAIN PUMP | R210LC9, R210LC-9 |
| 31Q7-10010 | HYDRAULIC MAIN PUMP | R250LC9, R250LC-9, HX260L, R260LC9A, R260LC-9A |
| 31Q7-10050 | HYDRAULIC MAIN PUMP | R260LC9S, R260LC-9S |
| 31Q8-10010 | HYDRAULIC MAIN PUMP | R290LC9, R290LC-9, R290LC9MH, R290LC-9MH |
| 31Q8-10015 | HYDRAULIC MAIN PUMP | R290LC9, R290LC-9 |
| 31Q8-10030 | HYDRAULIC MAIN PUMP | RX305, HX300L, R300LC9A, R300LC-9A, R300LC9S, R300LC-9S, R300LC-9SH, R300LC-9SH |
| 31Q8-10035 | HYDRAULIC MAIN PUMP | R300LC9S, R300LC-9S |
| 31Q8-19010 | HYDRAULIC MAIN PUMP | R300LCE |
| 31Q8-19015 | HYDRAULIC MAIN PUMP | R300LCE |
| 31Q9-10010 | HYDRAULIC MAIN PUMP | R320LC9, R320LC-9, R330LC9A, R330LC-9A |
| 31Q9-10020 | HYDRAULIC MAIN PUMP | R330LC9SH, R330LC-9SH |
| 31QA-10010 | HYDRAULIC MAIN PUMP | R380LC, R380LC9, R380LC-9, R380LC9A, R380LC-9A, R380LC9DM, R380LC-9DM, R430LC9, R430LC-9 |
| 31QA-10021 | HYDRAULIC MAIN PUMP | R380LCH, R380LC9SH, R380LC-9SH, R390LC9, R390LC-9 |
| 31QA-10040 | HYDRAULIC MAIN PUMP | R430LC9, R430LC-9A, R430LC9A |
| 31QA-10050 | HYDRAULIC MAIN PUMP | R380LC, R380LC9, R380LC-9, R380LC9A, R380LC-9A, R380LC9DM, R380LC-9DM |
| 31QA-10070 | HYDRAULIC MAIN PUMP | R430LC9, R430LC-9, R430LC9A, R430LC-9A |
| 31QB-10011 | HYDRAULIC MAIN PUMP | R520LC9, R520LC-9, R480LC9, R480LC-9, R480LC9A, R480LC-9A, R480LC9MH, R480LC-9MH, R520LS9A, R520LC-9A, R520LC-9S, R520LC9S |
| 31QB-10020 | HYDRAULIC MAIN PUMP | R520LCH |
| 31QB-10030 | HYDRAULIC MAIN PUMP | R450LC7, R450LC-7, R480LC9. R480LC-9, R480LC9A, R480LC-9A, R480LC9MH, R480LC-9MH, R500LC7, R500LC-7, R520LC9, R520LC-9, R520LC9A, R520LC-9A, R520LC9S, R520LC-9S |
| 31QC-10010 | HYDRAULIC MAIN PUMP | R430LC9SH, R430LC-9SH |
| 34E7-03650 | HYDRAULIC MAIN PUMP | R450LC3A, R450LC-3A, |