Terms
Terms of sale are based upon full payment receival. In the event of legal action is required to enforce payment, customer agrees to pay KCTPARTS all court costs and attorney fees. All parts are received as is. All prices are subject to change without prior notice due to currency fluctuation, fuel prices and/or unforeseen economic circumstances.
If you need to return an item, please contact us with your order number and details about the product you would like to return. We will respond as soon as possible with all needed instructions how to return your order.
GENERAL RETURNS
All returns (whether for product defect or otherwise) must be requested within 30 days of invoice. Returned merchandise will ONLY be accepted with an issued RMA (Return Merchandise Authorization) number and ONLY within 10 days from issuing the Return Authorization number.
All sales are final after 30 days.
Unacceptable returns will be sent back to the customer on request at the customer's expense.

All returns (except for returns involving a verified product defect) are returnable within 30 days of invoice and are subjected to a 35% restocking fee.
All non-defective items must be returned in brand new condition, unused and uninstalled, in original packaging, in salable condition, and originally purchased as service parts from KCTPARTS. Credit will be denied for items that show any signs of installation.
List of non-returnable and non-refundable items once ordered:
No returns are accepted for any wrong parts ordered
Paints
Chemicals
Lubricants
Seal Rings and O-Rings
LPG Tanks
Fire Extinguishers
Safety parts (seat belts)
Brake Pads and Brake parts
Tires
Chains
Forks & Fork Extensions
Electric parts
Body parts / Cabin / Attachments / Tools
Engines
Transmissions
Axles / Steer and Drive
Side Shift Cylinders
Hydraulic Cylinders
Hydraulic Pumps
Seal Kits
Filters and Elements
Used parts
NTO (New Take Off) parts
Special Order Products (non-stock items, non-cancelable, non-refundable)
BO (Back ordered) parts (non-cancelable, non-refundable)
International Orders
Discounted parts or Discounted Orders
Parts Eligible for Free Shipping
Diagnostic tools
All other parts marked "Non-returnable part"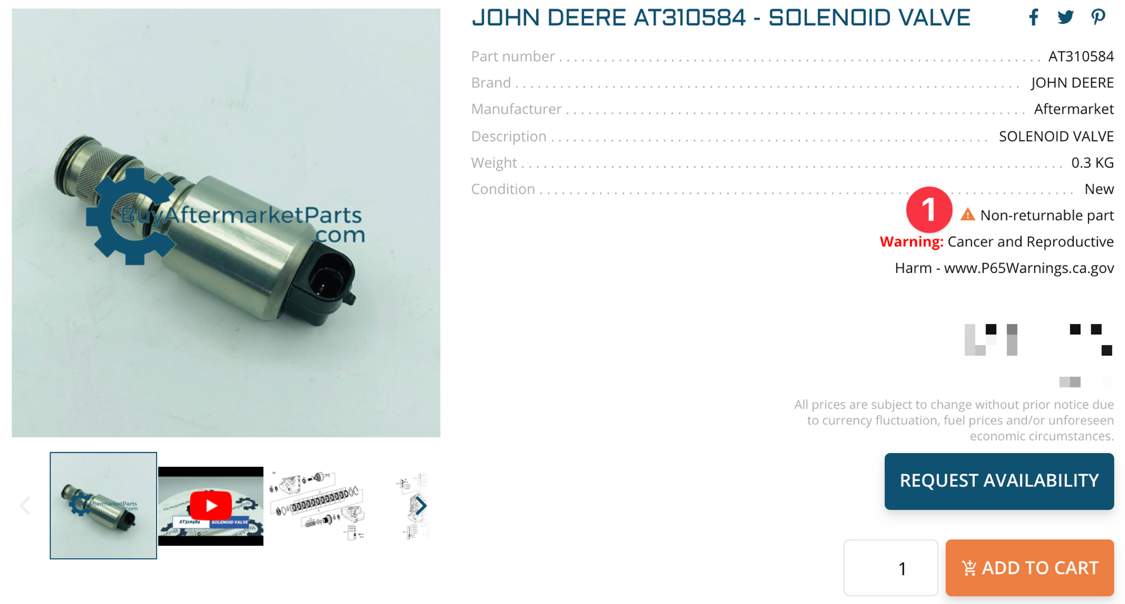 KCTPARTS does not cover return shipping for warranty claims.
Merchandise that was returned as defective and determined to work properly, will be subject to a testing fee and the 50% restocking charge.
The warranty period for our products extends for 30 days from the date of purchase.
Please note that our warranty does not include coverage for Original Equipment (OE) parts. If you encounter any issues related to OE parts, we recommend you to directly reach out to the OE manufacturer for further support. We are unable to offer assistance or coverage for issues related to OE parts as they fall under the manufacturer's purview.
Please be aware that this warranty applies exclusively to customers located within the United States. Sales made internationally are exempt from warranty coverage.
Credit will not be issued for merchandise damaged due to corrosive materials, abuse, alteration, improper installation or misuse.
Any damaged merchandise that happened during the shipment must be reported on the same day or 48 hours after receiving the package from the shipping company. Receiver must save the original box and paperwork (packing slip, shipping label). If the receiver does not save the original box and paperwork, the damage claim will be automatically denied.
Merchandise that is returned as defective will be thoroughly tested and inspected. For merchandise that is verified as defective, KCTPARTS will either (at its sole discretion) repair or replace the merchandise at no charge, or issue a full credit for the defective merchandise, freight is not included.
If inspection of merchandise shows improper use or installation by a customer, credit will be denied.
Before returning any merchandise to KCTPARTS, a Return Authorization Number must be obtained from our Customer Service department. To get a return authorization number, send email to Support@buyaftermarketparts.com If merchandise is not returned within 10 days after issuing a Return Authorization Number, the return request will be automatically denied.
For all shipping disputes or any shipping related complaints contact us within 30 days from the date of shipment. Carriers can only store tracking information for 30 days.

The refund can be expected within four weeks after the item(s) is sent back. In many cases your refund will be processed faster, unless the item needs a special inspection (items like controllers require a thorough inspection by an engineer / specialist). This time period will include a transit time for us to receive your return from the shipper (5 to 10 business days), time for us to process and approve your return once we receive it (3 to 5 business days), and time for your bank to process our refund request (5 to 10 business days).